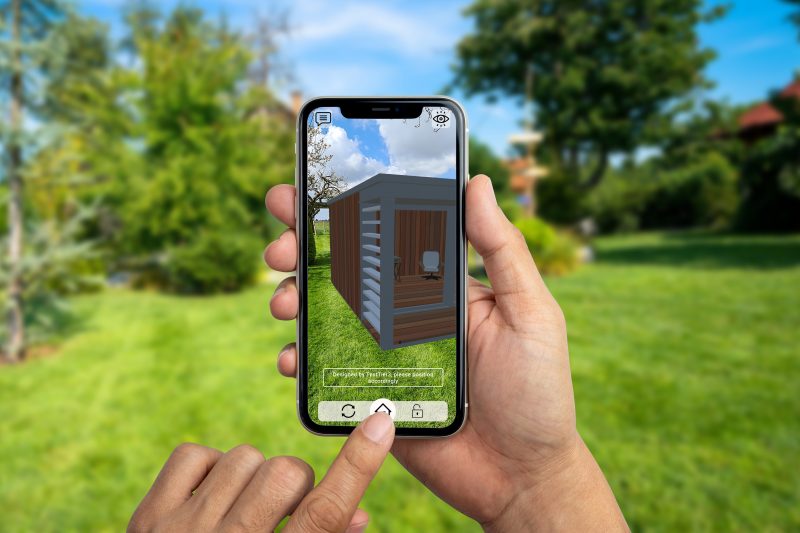 With technology at our fingertips, the way in which homeowners choose to spend on improving their living spaces has changed. InPlace, a new software from Augmented Reality Creations, offers installers a modern way of winning more sales, and has been taking the market by storm…
Augmented reality is one of the fastest growing technologies out there, and has already made a huge impact on many major industries including education, medical training, retail, tourism and entertainment.
Being able to virtually interact with new ideas through a smartphone or tablet is changing the world fast, and now, thanks to new innovative software, augmented reality is taking the home improvement sector by storm.
InPlace, a new app from tech start-up Augmented Reality Creations (ARC), allows homeowners to re-imagine their living spaces, using their smartphone to place explorable virtual conservatory designs in their gardens or attached to their homes, and get a feel of where they would end up and what they would look like in real life.
And for those in the conservatory business, it's a game changer.
"The conservatory market is huge right now, and yet, even in today's modern world, homeowners are having to rely on computer drawings to make important, and often costly, decisions," comments ARC COO and Co-founder Andrew Clear.
"InPlace changes all that, transforming these drawings into immersive 3D experiences that will enable homeowners to make decisions, and as a result, help installers increase their conversion rates."
Tomorrow's build, seen today

InPlace allows installers to virtually place their conservatory design on their customer's property and help them visualise how it will transform their home.
Homeowners can walk through virtual life-size 3D models of conservatories, enabling them to make a decision on the design that best suits them.
And the technology couldn't be easier to use – installers simply design their conservatory using their existing software, then upload this design onto the ARC system on the company's website.
A unique project code is then generated, which can be entered into the free InPlace app and used by either the homeowner or the installer during a sales visit for secure augmented reality viewing.
This project code also allows installers to secure their designs, preventing clients from passing them on to potential competitors.
Once the virtual conservatory design is in place on the customer's property, homeowners can see where it would end up, and even walk into the design to view it from the inside.
"By being able to virtually see what their conservatory would look like on their property, InPlace allows homeowners to make quick, well-informed decisions on their purchase," comments Andrew.
"By offering this technology to their customers, installers can set themselves apart from their competitors, build with the confidence that their customers are happy with their plans, and ultimately grow their conversion rates and increase their profit margins."
Transform your showroom
But it's not just on a customer's property that InPlace can help make a sale.
Conservatories of course take up space, and even in the largest showroom, there's a finite amount that can be demonstrated to potential customers.
With InPlace, however, all installers need is a blank wall – they can then use the software to upload and project a limitless number of conservatories, allowing visitors to their showroom to virtually explore their designs.
"Even with very limited space, installers can really benefit from this software, demonstrating several conservatory designs to many potential customers at a time, ultimately increasing their sales rates at very little cost," says Andrew.
Changing the industry
Andrew, along with fellow computer science experts Zack Tuff and Kristian Woolhouse, founded ARC and developed InPlace specifically to change the way the modern home improvement industry works.
"As a simple, easy to use app, InPlace enables installers, home improvement firms and architects to give their customers a much better experience, increasing consumer desire and improving both sales conversion rates and order values," Andrew concludes.
"With InPlace, we believe we've created a technology that will make a big impact on the home improvement industry, and beyond."