In today's fiercely competitive market, it's more important than ever that we invest in lead generation. Could augmented reality be the answer?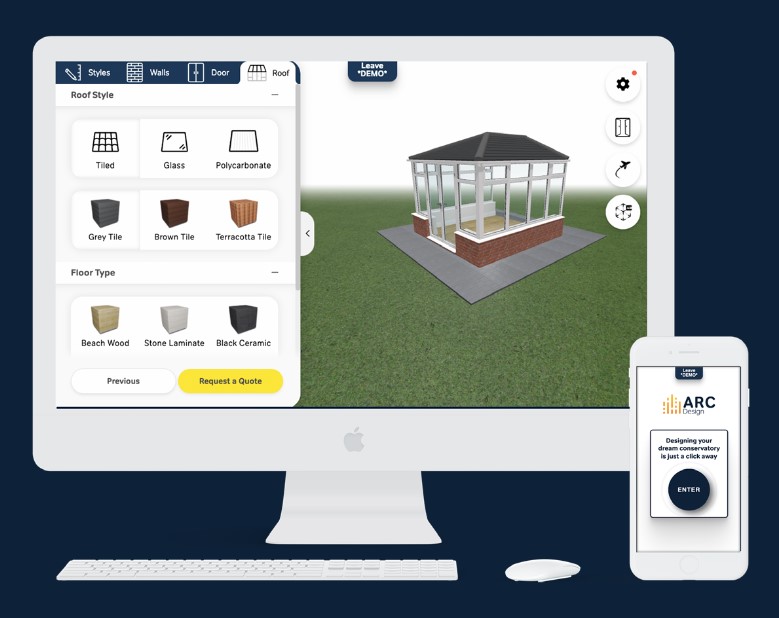 Over the past two years, no one in the industry was immune to the disruption of supply chain issues, while at the same time, many of us witnessed a surge in demand as consumers chose to invest in home improvements, after saving a reported £150 billion during lockdown.
This year thankfully saw the UK return to normal following the pandemic – but that also means that the market has started to cool significantly, bringing on a sharp decrease in demand.
Consumers simply aren't spending as much on home improvements, something only exacerbated by the current energy and cost of living crisis, and the glazing industry as a result is facing a very challenging future.
It's therefore more important than ever for us to invest in lead generation – after all, leads are essential for any kind of business growth.
And one proven way to do this is through technology.
Looking back to the pandemic, there's no doubt that companies who embraced a digital approach had an advantage over those that didn't, whether it was through online pricing and ordering, customer quotes, sales, or supplier relations.
And a new technology that's already been transforming the industry is Augmented Reality Conservatory Design (ARC Design).
The ideal lead generation tool
Developed by tech start-up Augmented Reality Creations (ARC), the software works as a visualisation tool that sits within an installer's website, helping homeowners design and fully customise their own conservatory within minutes, before submitting the design to the installer to request a quote.
With the click of a button, the homeowner can then view their design in 3D augmented reality, allowing them to view the conservatory in situ on their house, helping them make their final decision.
ARC COO and Co-founder Andy Clear comments: "The unique feature of ARC Design is that it hooks consumers onto an installer's website with a simple yet engaging experience – they experiment with their different design options, all the while associating this experience with the installer's brand, positioning that installer as the obvious frontrunner for the installation.
"From the installer's point of view, they can then access the homeowner's design preferences and contact details, meaning that during their first interaction with a potential customer, they can go in highly informed and easily show their expertise, giving a faster route to sale and even opening the door for a higher price.
"As a result, ARC Design is a huge help in increasing lead generation."
Re-shaping the conservatory market
Lead generation can often be difficult and time consuming, but as the market slows following an industry boom, it's vital that businesses invest in tools that will help them win more sales.
And with ARC Design, generating leads doesn't need to be difficult at all – the software is easy to use, requires no design experience or training, and can be installed onto a website in just 30 minutes.
"We've come up with technology that not only attracts customers, but keeps them engaged up to the crucial decision-making step," Andy says.
"Today's consumers are much more open to dealing with installers in a virtual environment – and the immersive experience of augmented reality is certainly growing in popularity.
"If you want to stay ahead in what's becoming a very difficult market, it's essential that you have a powerful lead generation tool to hand – and ARC Design is certainly one you can rely on to not only bring in sales, but one that's set to re-shape the future of the conservatory market."